Over 160 people dead in flash floods
Over 160 people dead in Germany flash floods, widespread damage reported – In Pics
The flashfloods which hit several parts of Germany has resulted in the deaths of more than 160 people. The floods engulfed large parts of the country tearing through villages, sweeping away houses, roads and bridges and highlighting gaps in how warnings of severe weather are passed on to the public.
Angela Merkel takes stock of flood-hit areas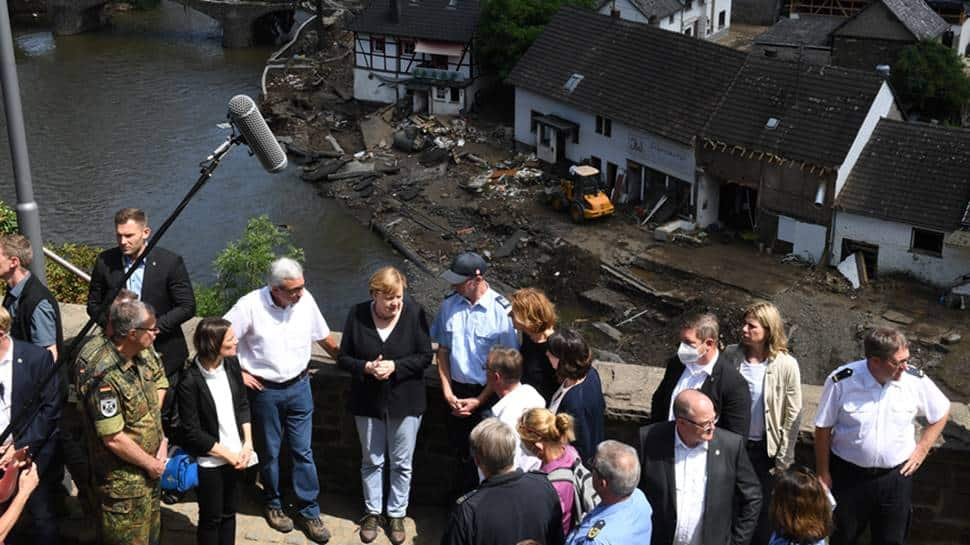 German Chancellor Angela Merkel travelled to the disaster zone for the second time amid a mounting outcry of failings in flood preparedness.
(Image Courtesy: Reuters)
Germany hit by floods in many parts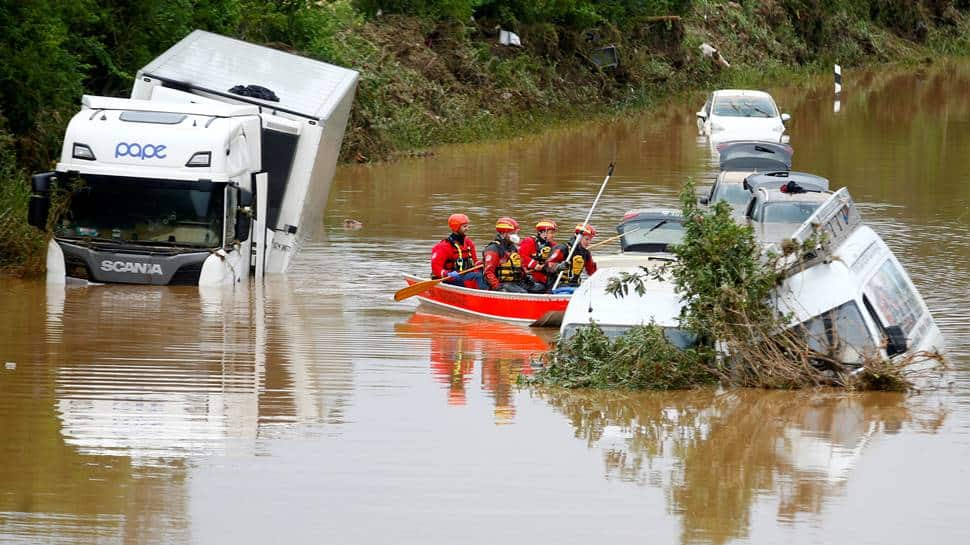 With the country about 10 weeks away from national elections, the floods have put the crisis management skills of Germany`s leaders on the agenda as opposition politicians suggested the death toll revealed serious failings in flood preparedness.
(Image Courtesy: Reuters)
Floods cause severe economic losses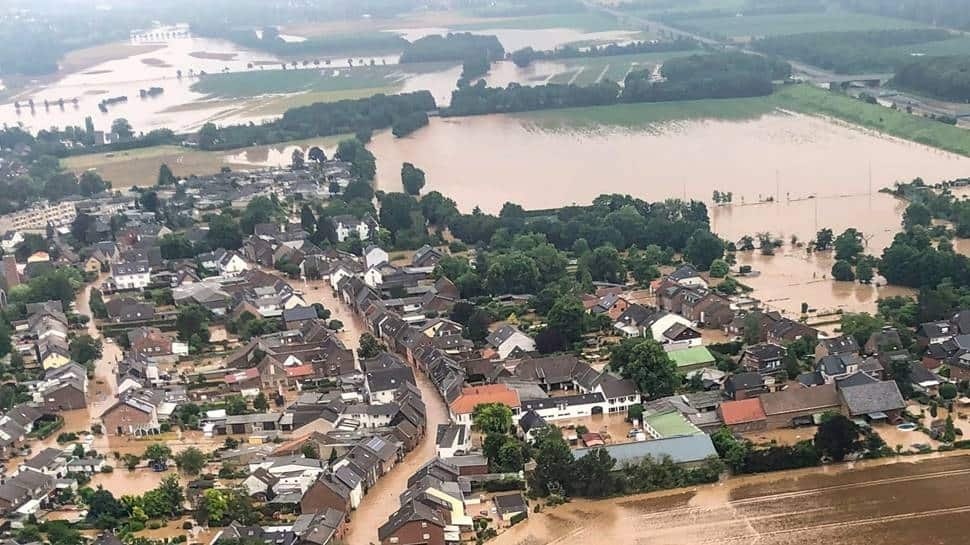 Coming on top of unprecedented spending on coronavirus relief measures, the cost is sure to run into the billions. Bavarian Environment Minister Thorsten Glauber said his southern state would spend 40 billion euros on flood defences in the coming 20 years.
(Image Courtesy: Reuters)
Floods wreck havoc in Germany
That will come on top of 200 million euros that would come from the 16 federal states. The government also hopes for financial support from the European Union`s solidarity fund.
(Image Courtesy: Reuters)
Severe economic loss in Germany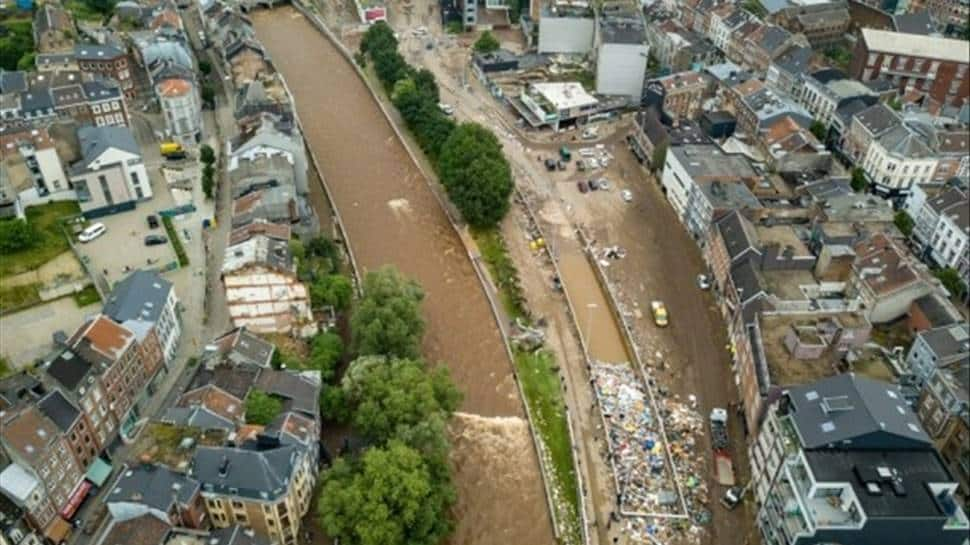 The financial cost of Germany`s worst natural disaster in almost 60 years will also weigh heavily on the next government.
(Image Courtesy: IANS)
Over 160 killed in Germany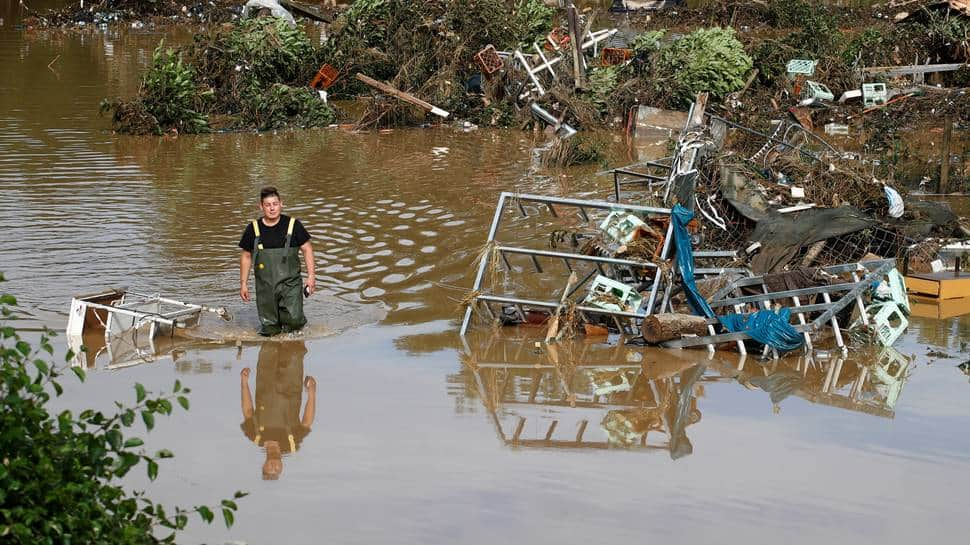 Chancellor Angela Merkel and ministers are expected to approve a package of around 400 million euros (USD 472 million), financed half by the federal government and half by Germany's state governments, to help people deal with the immediate aftermath of the flooding and repair some of the damage.
(Image Courtesy: Reuters)
Over 160 killed in flashfloods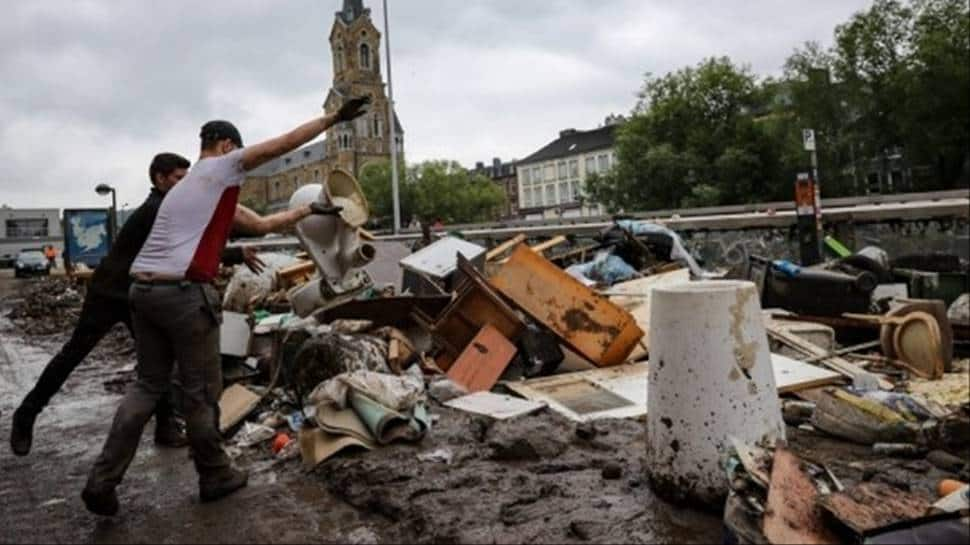 Meanwhile, 31 people died in neighbouring Belgium, bringing the death toll in both countries to 201.
(Image Courtesy: IANS)
Mirabai Chanu Wins India's First Medal At Tokyo Olympics
Weightlifter Mirabai Chanu opened India's medal tally at the Tokyo Olympics after winning a silver medal in the women's 49 kg category.
The 26-year-old lifted a total of 202 kg, with 87 kg in snatch and 115 kg in clean and jerk.
China's Zhihui Hou won the gold medal by lifting a total of 210 kg.
12 dead, 26 injured in bus accident
At least 12 people were killed and 26 others injured after a minibus carrying illegal migrants crashed on Sunday in eastern Turkey.
A vehicle, carrying migrants in the Muradiye district of eastern Van province near the Turkish border with Iran, caught fire after the driver lost control of the bus, the local governorate said in a statement.
The organizer of the transfer and 11 migrants died in the accident, 26 injured migrants are taken under treatment at nearby hospitals.
The owner of the bus has been detained.
Turkey has been a transit point for migrants mostly from Iran, Afghanistan and Pakistan who aim to cross into Europe.
Pakistan Accuses India of Carrying Out Blast Outside LeT chief Hafiz Saeed's Home
Pakistan on Sunday ended its four-month pause on accusations and attacks against New Delhi, describing the June 23 bomb blast near the home of Jamaat-ud-Dawa chief Hafiz Saeed as India-sponsored terrorism. On Sunday, Pakistan's National Security Advisor Moeed Yousuf alleged that an Indian citizen was behind a powerful bomb blast outside the house of the 2008 Mumbai terror attack mastermind and chief of the banned Jamat-ud-Dawa (JuD) Hafiz Saeed in Lahore last month.
Three persons were killed and 24 others injured when the powerful car bomb exploded outside Saeed's residence at the Board of Revenue (BOR) Housing Society in Johar Town in Lahore on June 23. On Twitter, Prime Minister Imran Khan alleged that the "planning & financing of this heinous terror attack has links to Indian sponsorship of terrorism against Pakistan" and asked the global community to mobilize international institutions against this rogue behavior.
Addressing a press conference alongside the Punjab police chief and Information Minister Fawad Chaudhry here, NSA Yousuf claimed that the mastermind of the attack "is an Indian citizen with links to an intelligence agency. "Through the forensic analysis, electronic equipment, which has been recovered from these terrorists, we have identified the main mastermind and the handlers of this terrorist attack, and we have absolutely no doubt or reservation in informing you that the main mastermind belongs to RAW, the Indian intelligence agency, is an Indian national, and is based in India," he said. He, however, did not identify the alleged suspect.
Amish Mahajan
Content Writer
JK Media
30 Jul 2021, 11:06 AM (GMT)
Coronavirus Stats
30,743,972
Recovered Cases