Jobless rate in urban India soars to 18%
Hobbled by lockdowns and curtailed economic activity, India's urban unemployment rate has soared to almost 18%, the highest in a year.
The urban joblessness rate was 17.88% in the week ended 30 May, three percentage points more than a fortnight ago, when it was 14.71%, the Centre for Monitoring Indian Economy (CMIE) data showed. Urban unemployment was 10.08% in the week ended 2 May.
The labour force participation rate (LFPR) and employment rate also fell in urban India. LFPR dropped to 35.69% in the week ended 30 May, against 37% in the week ended 16 May, the CMIE data showed. However, rural unemployment fell nearly five percentage points in the week ended 30 May, from a fortnight ago, to 9.58%.
National joblessness dropped a little over two percentage points during the same period. As per the latest weekly data, the national unemployment rate stands at 12.15%.
Experts and economists said urban joblessness has a direct co-relation with restricted economic activity and lockdowns. Besides, there is no alternative to the rural national employment guarantee scheme for urban workers. They said that in rural India, more people are engaged in family professions such as agriculture, horticulture, and small businesses, leading to disguised unemployment and lower productivity.
"Urban unemployment will stay high for at least three to six months because of three reasons–lack of employment opportunities, employers' hesitation to hire more, and an increased risk-aversion among workers due to the scientific study that has established that the coronavirus is spreading through air," K.R. Shyam Sundar, a labour economist, said.
"Other than IT and allied sectors, employment opportunity is limited everywhere else. Look at fast-moving consumer goods, retail trade, automobile, informal sectors, including urban markets, the hospitality or tourism sectors, you would realize that it's no time to stand and clap in joy. The business sentiment is down, consumption is down, and we are facing a circular crisis. Lack of consumption is hitting employment creation, and lack of employment is adversely impacting consumption," he added.
The Federation of Indian Chambers of Commerce and Industries (Ficci) on Monday said business confidence has dipped to a three-quarter low and 70% of participants reported weak demand as a matter of concern, compared to 56% in the previous quarterly survey round.
The fall in demand is due to declining income, and job and business losses, and their impact on the overall economy, said Arup Mitra, a professor of economics at Delhi University. "Because there is a stretch in the labour market, people are earning less, and job losses are massive, market demand and economic revival is taking time. I think the improvement in job market and business sentiment will depend on how we as a system manage the current crisis."
Rural unemployment is as bad as urban but the difference is that there is mass disguised unemployment which gives a false sense of employment, said Mitra.
In its annual report released on 27 May, the RBI said: "2020 was ravaged by output and employment losses unprecedented in history, globally and in India" and the pandemic presents painful trade-offs between protecting lives through restrictive measures and protecting livelihoods by not resorting to them. This is the dilemma confronting all, and India is not immune to this "razor's edge dilemma", it added.
GOOD NEWS for Unemployed youth of J&K: Registration begins, Pay scale Rs 1,77,500
The Indian Air Force has begun inviting applications for candidates aiming to be part of the IAF as commissioned officers in flying and ground duty branches.
The IAF has invited online applications for the courses commencing in July 2022 for grant of Short Service Commission (SSC) in Flying Branch and Permanent Commission (PC) and Short Service Commission (SSC) in Ground Duty (Technical and Non-Technical) Branches.
Online applications are also invited for grant of PC/SSC for NCC Special Entry Scheme (for flying branch) and for Meteorology Entry.
Check branches and vacancies below: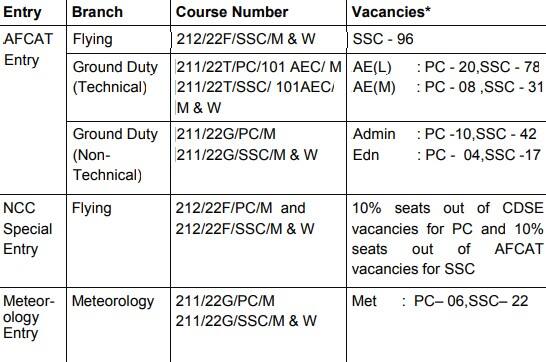 Last date for registration:
The registration for online applications have started on June 1 and will close on June 30.
Pay on Commissioning (As per 7th CPC)
As per notification, flight cadets will receive a fixed stipend of ₹56,100 per month during one year of training.
Rank – Flying Officer
Pay as per Defence Matrix: ₹56100 – 177500
Eligibility:
Nationality: Candidate must be a citizen of India as per the Indian citizenship act, 1955.
Age: For Flying Branch, the age limit is 20 to 24 years as of July 1 2022 (born between July 2, 1998, to July 1 2002). However, the Upper age limit for candidates holding valid and current Commercial Pilot License issued by DGCA (India) is relaxable up to 26 years.
For Ground Duty (Technical/ Non-Technical) Branches, the age limit is 20 to 26 years as of July 1 2022.
Educational Qualifications: (i) Flying Branch. Candidates should have mandatorily passed with a minimum of 50% marks each in Maths and Physics at 10+2 level and
(a) Graduation with a minimum three years degree course in any discipline from a  recognized University with a minimum of 60% marks or equivalent.
OR
(b) BE/B Tech degree (Four years course) from a recognised University with a  minimum of 60% marks or equivalent.
OR
(c) Candidates who have cleared Section A & B examination of Associate  Membership of Institution of Engineers (India) or Aeronautical Society of India from a recognised University with a minimum of 60% marks or equivalent.
The detailed notification is available on the official websites https://careerindianairforce.cdac.in and https://afcat.cdac.in.
Good News for Unemployed youth of Jammu Kashmir: Details Inside
The Jammu and Kashmir Services Selection Board (JKSSB) has invited online applications for recruitment to District/Divisional/UT Cadre posts of various Departments. The application process will commence on June 20 and conclude on July 27. Interested candidates can apply at website ssbjk.org.in.
Watch Video
Candidates have to pay an online application fee of Rs 350.
Vacancy details
Forest, Ecology and Environment Department: 280
General Administration Department: 200
Health & Medical Education Department: 4
Department of Law Justice and Parliamentary Affairs: 19
The age limit of Open Merit is 40 years while there are relaxations for reserved categories. Candidates are advised to read the recruitment advertisement available on the website jkssb.nic.in to read more on eligibility criteria, vacancy details, selection procedure, etc.
Here's JKSSB recruitment Advertisement No 03 of 2021.
Selections will be done on the basis of a competitive exam which will consist of Objective Type, Multiple choice questions. Marks scored by candidates in written test will be normalized if required, to determine final merit and cut-off marks, JKSSB said.
Recruitment 2021: Over 3,600 vacancies, check posts and other details
The Railway Recruitment Cell, Western Railway, has released notification for over 3600 vacant posts and the interested candidates can apply till June 24. Candidates can apply for the same on the official website: www.rrc-wr.com.
This is a direct recruitment procedure, hence no exam will be conducted to recruit candidates.
Selection will be based on the merit list which will be made on the basis of an average of the percentage of marks obtained by the applicants in Class 10 and ITI examinations.
If in case two applicants have the same marks, then the candidate who is older in age will be preferred.
Age limit:
General category: More than 15 years but less than 24 years of age.
OBC: For other backward class candidates, there is a relaxation of three years in the upper age limit.
SC and ST category: The upper age limit is relaxable up to five years.
Number of vacancies:
Mumbai Division (MMCT) – 738
Ahmedabad Division (ADI) – 611
Vadodara (BRC) Division – 489
Ratlam Division (RTM) – 434
Lower Parel (PL) W/Shop – 396
Bhavnagar Workshop (BVP) – 210
Dahod (DHD) W/SHOP – 187
Rajkot Division (RJT) – 176
Bhavnagar (BVP ) W/Shop – 73
Mahalaxmi (MX) W/Shop – 64
Sabarmati (SBI ) ENGG W/SHOP, Ahmedabad – 60
Pratap Nagar (PRTN) W/SHOP, Vadodara – 45
HEADQUARTER OFFICE HQ – 34
Sabarmati (SBI ) Signal W/SHOP, Ahmedabad – 25
Application procedure:
1: Go to the official website: www.rrc-wr.com.
2: Click on the link related to the application form.
3: The form will open in a new tab. Fill in all your required details carefully and hit submit.
4: Pay the fee according to your category through an online payment method. Once the payment is done your form will be submitted.
5: Take a screenshot of the successfully submitted application form for your reference.
14 Jun 2021, 3:07 AM (GMT)
Coronavirus Stats
28,148,977
Recovered Cases