J&K Govt takes another historic decision: check details here
The Jammu and Kashmir administration on Tuesday announced to issue a domicile certificate to the spouse/husband of a native woman, who is a domicile holder in the UT. Earlier, the J&K women who were married outside the Union Territory, made their spouse ineligible for domicile certificate.
Watch Video
The Union cabinet in 2020 had approved the Jammu & Kashmir (Adaptation of State Laws) Second Order, 2020 issued under section 96 of Jammu & Kashmir Reorganisation Act, 2019.
The spouse of a domicile certificate holder can get the certificate upon submission of certain documents, as a new clause has been added under the J&K Grant of Domicile Certificate (Procedure) Rules, 2020.
The power to grant the category of domicile to the spouse of domicile has been conferred with the tehsildar.
The spouse is eligible to get a certificate upon showing — 1) Domicile certificate of his/her spouse and 2) valid marriage proof. 
The order modified the applicability of Domicile conditions to all levels of jobs in the Union territory of Jammu & Kashmir under the Jammu & Kashmir Civil Services (Decentralisation and Recruitment) Act.
"In exercise of the powers conferred by the proviso to Article 309 of the Consitution of India, read with section 15 of the Jammu and Kashmir Civil Services Act 2010, the government hereby directs in sub-rule (1) of rule 5 of the Jammu and Kashmir Grant of Domicile Certificate Rules 220, after S.No/Clause 6, the following shall be added," the notice reads.
Here is the revised clause in the table mentioned below.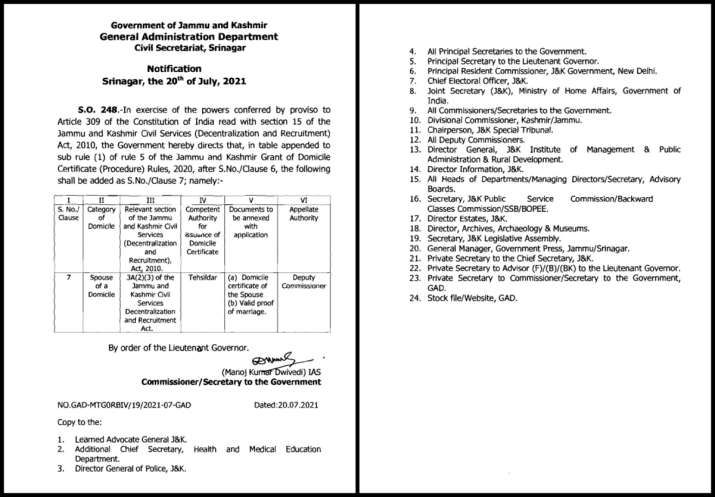 Union Minister Dr Jitendra Singh described the Jammu & Kashmir Domicile Rules Notification as the dawn of a new era for the Union Territory.
In March 2021, the Centre informed that as per  J&K govt information, a total of 35,44,938 applications for issue of Domicile Certificate was received till December 31, 2020, out of which 32,31,353 applicants have been issued Domicile Certificates.
"As on 31st December 2020, a total of 31,08,682 Domicile Certificates have been issued to the dependents/holders of erstwhile Permanent Resident Certificates in the UT of Jammu and Kashmir," former Minister of State for Home Affairs, G Kishan Reddy had said in a written reply to question in the Rajya Sabha.
Rescue operation resumes in cloudburst-hit Kishtwar after suspension due to rain
The rescue operation to locate 20 people missing after a cloudburst in a village in Jammu and Kashmir's Kishtwar resumed Friday after remaining suspended for hours together owing to inclement weather, officials said.
Seven persons were found dead and 17 others were rescued in an injured condition after the remote Honzar village in Dacchan tehsil was hit by flash floods triggered by the cloudburst in the early hours of Wednesday, damaging 21 houses, 21 cow sheds, a ration depot, a bridge and a mosque.
The rescue operation was interrupted by heavy rains late Thursday night and resumed around noon after slight improvement in the weather conditions, the officials said.
Rescue operation for trapped/missing persons continues ,ADGP Jammu @mukesh_ips_jk camping for last two day's in Honzar Tehsil #Dachhan of #Kishtwar district monitoring/leading the rescue/search operation launched by Police in collaboration with Distt. Adm. Army & SDRF. pic.twitter.com/CGJ80yTQSi

— IGP Jammu (@igpjmu) July 30, 2021
Cyber fraud in Jammu, person loses 24,000 from Bank account
With the continuous rise in cyber fraud cases in Jammu and Kashmir, one more similar case was reported from Chasana Mahor area of Reasi where a man named Sat Pal Singh lost an amount of Rs. 24,000 from his bank account.
Watch Video
According to him, the Bank account had an amount of Rs. 25,000, however, when he tried to withdraw it, 24,000 was missing. He later contacted the Bank authorities.
"I went to the Bank ATM but could only withdraw an amount of 1,000. I kept trying until my card got blocked. On talking to Bank officials, a cyber fraud was found. In 3 unknown transactions, 24,000 was taken away." Sat Pal said
"I'm a poor man. I've a handicapped sister and aged Father. I work hard to feed my kids. I request Bank authorities to check the CCTV footage and J&K Police to solve this case as soon as possible." He added
Anyone willing to help Sat Pal Singh can contact him at 9596332003.
Muskan Langoo, Content writer, JK Media
DGP sanctions Rs 70 lakh financial support to J&K PP, SPOs
Director General of Jammu and Kashmir police Dilbagh Singh has sanctioned Rs 70 lakh in favour of families of police personnel and Special Police Officers (SPOs) who expired while in service.
The Special Welfare Relief of Rs 19 lakh each has been sanctioned in favour of dependents and legal heirs of the deceased Assistant Sub-Inspector (ASI) Pawan Singh, Head Constable (HC) Gopal Dass and follower Pritam Singh who expired while in service, a police spokesman said on Friday.
He said Rs one lakh has been already paid to the NoKs of deceased police personnel for performing the last rites as immediate relief by the Police Headquarters (PHQ) through their concerned units. The financial assistance has been given out of the Contributory Police Welfare Fund.
DGP Singh has also sanctioned special relief of Rs 5 lakh each in favour of dependents and legal heirs of deceased SPOs Mohammad Nazir and Vakil Singh who passed away during the course of their engagement in the department. The financial assistance has been given out of the Contributory Welfare Fund of SPOs.
As a welfare measure, Police Headquarters has taken many initiatives to ensure increased help and assistance for the welfare of its personnel and their families, he said.
30 Jul 2021, 10:06 AM (GMT)
Coronavirus Stats
30,743,972
Recovered Cases